Sveti Stefan / Montenegro​
We created two distinct areas / reference sites on the landscape, which they delimit the structured and unstructured environment with ambiguous limits. This creates a combination of transparency and depth while a connection between the forest (which also crosses the plot) and the activities is affected.

The apartment's buildings follow the mountain form with the continuous recesses "sculptured" on the building's frame, while the hotel represents the sea.
​
PROJECT_JANU Montenegro by AMAN
CLIENT_Adriatic Properties d.o.o
LOCATION_Sveti Stefan, Montenegro
STAGE_Construction Design
​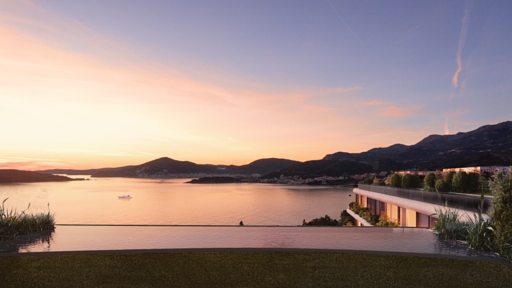 ARCHITECTURE AND LANDSCAPE
The residences' architectural concept is based on the simulation of a mountain full of trees, out of which residences appear. The curves are inspired by the contour lines of a topographic survey, on which trees and greenery have been planted. The entrance to the residences, is placed under these contour lines, at the base of the mountain and the trees climb up and reach out until the water feature on the other side. All balconies have plantation and provide to guests the experience of mountain greenery. The residences are designed as an L shape, opening towards the sea view of the PRZNO settlement. The positioning does not affect the neighboring existing residences as they participate in the concept of a water bay in between hills and houses.
The hotel's architectural concept, simulates the water, through the curves and pools on its balconies. The architectural language is similar to the one used for the residences but in reverse, the water element is simulated by the building rather than the bay and the forest element is simulated by the bay rather than the building.
The hotel is located close to the existing Spa facility in order to offer to its guest's easy access to the services of the spa, indoor pool, gym, yoga and to Queens Beach. The hotel guests can enjoy the forest view of the two hills between which is located, with dynamic curves towards the "forest of memory", as well as the beautiful pine trees at the edge of the plot towards the Spa. The Interior design is by Yabu Pushelberg.
The concept is affected by the disarming beauty of the area's natural landscape and the incorporation of the architectural design within it. The buildings aligned along the bold lines and curves of the nearby mountains and sea coastline and smoothly integrated into the space, creating a sense of peace and tranquility to visitors.​